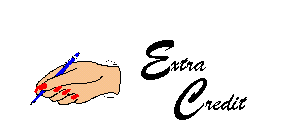 Please note that turning in Extra Credit is a privilege! If you simply do not come to class or turn in work, extra credit assignments will not be accepted. Please see me if you are thinking of doing any extra credit assignments.
What is Extra Credit?
Extra Credit assignments are designed to enrich your skills in language arts.
If done correctly extra credit assignments can raise your grade in this class.
Language Arts extra credit assignments are designed with multiple intelligence's in mind.

What are the assignments?
I have provided a short list of extra credit assignments that can be turned in at any time.
More assignments may become available as we work in class.
In general, I expect you to make up your own extra credit ideas and present them to me. Once approved you will find the points on these original items to be much higher! (* exception - Fairy Tale Web Quest)
Read an extra book outside of class and do a score card on it.
Do a community service project and write a paragraph essay on the experience.
Any short story or portfolio of poems (no less than 3 poems)
A Personal Literary Portfolio (a fun assignment! we will discuss in class)
Challenge: Fractured Fairy Tales. For the brave only - Enter If You Dare!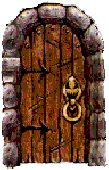 Enter Here!
Points are significantly higher for this project but it takes time! Internet research required.